Quality of Workmanship and Aesthetics of Design
We appreciate the work you did for us on this building. The quality of workmanship and aesthetics of design have enhanced our property. You have clearly exceeded our expectations.
Rod Taylor
Well-Constructed Borkholder Building
I am a very proud owner of a very well-constructed Borkholder Building. After several months of visiting several competitors, I chose Borkholder because of the quality and how it was designed for my needs. I highly recommend this building company for your needs."
Russell Dixon
Hard Work and Dedication on Carriage House Garage
We got so busy over the holidays that we didn't sufficiently thank you for your hard work and dedication in getting our carriage house garage built. We truly appreciate the way you and your crew quietly and efficiently came in, worked hard, and then cleaned everything up perfectly and left. We couldn't have asked for a less-stressful construction project. Feel free to use us as a reference for your future customers, and we would love to send you pictures of the carriage house once it's covered in stone in the spring.
Brad & Tina Fell
Construction and Workmanship for Farmer's Daughters Country Market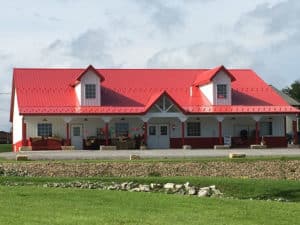 We talked to a lot of post frame builders, architects, and engineers. All it took was one meeting with Ethan of Hostetler Construction (our local Borkholder dealer) and he understood what we wanted in a building. Not only did he understand the design, he did a hand sketch of our building to help us visualize the finished product. After five years of dreaming and planning, our business is up and running. We could not be more impressed by the construction and workmanship that went into our building.
Our customers always express what a beautiful building we have and I could not agree more.
Melissa Perry
Beautiful Barn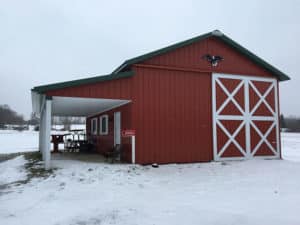 I am forever beholden to you and your crew for building us this beautiful barn!
John Crooks
Building Looks Great
Ethan, thanks again. The building looks great. Very Pleased.
Bernie and Debbie Meyers
Very Satisfied with My Building
I contracted with Hostetler to build my garage in the summer of 2020. The overall experience was great. Ethan was the only contractor willing to take the time to go through several iterations of design and numerous changes to get to a package that meet my needs and budget. Construction began on schedule with minimal delays and completed as promised, despite all of the supply challenges of 2020. Ethan, his crew, and his subcontractors were all great and their attention to detail was second to none. Overall I am very satisfied with my building. I highly recommend Hostleter Construction.
Jonathan Hardt
Sarver, PA
Speed and Quality
I could not be more pleased with the building I had built. The speed of construction and quality of their work are to the level that I would recommend anyone to have Hostetler Construction build their building.
Joe Sepich
Saxonburg, PA
Did a Great Job
Everyone comments on how nice the building is. You guys did a great job. I should have done this a long time ago.
Mark Cole
Franklin, PA
Very Happy with New Barn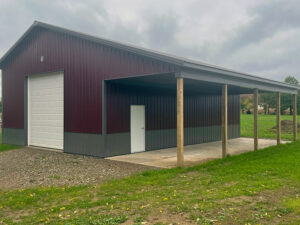 We just wanted to let you know that we are very happy with our new barn. Even with the material delays you kept us informed on when the build date would be and the work was done in a timely fashion. Thank you again.
Jim and Mary Beth Michael
Fairview, PA
Top Notch Crew
Thank you so much for such a wonderful job. You and your crew are top notch. We are so happy with our new garage.
Jennie and Greg
Butler PA
Quality of Workmanship Far Above Others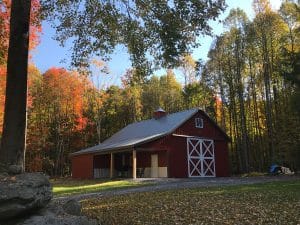 We absolutely love our barn. We would highly recommend Borkholder to anyone looking to build anything. Ethan Wagler and his entire team went above and beyond to give us our dream. The quality of workmanship is far above others we looked at. We were kept informed with phone calls, texts, and email as we were out of town for some of the time. We look forward to building again with the same team.
Ed and Cheryl W
Mercer, PA